Yellowstone General Store
Convenient Store Located in Silver Gate

During peak season (Memorial Day-Labor Day) the store hours are from 8:00 am till 9:00 pm. After Labor Day the store hours are 8:00 am till 8:00 pm. Store hours are subject to change as the season winds down.
The store sells Montana made gifts, basic foods like breads, lunch meats, hot dogs and other necessities for a picnic lunch , Local beer and wines, hiking supplies including maps and bear spray, books, ice, firewood, ground on sight Grizzly blend Montana roasted coffee.
We try to be a source for the latest info on where to see animals. We also rent both Swarovski spotting scopes and Nikon and Alpen Binoculars. We sell both Nikon and Alpen Binoculars. We highly recommend the spotting scopes for those of you who come to Yellowstone to see wolves, bear, goats, sheep. Many times having a spotting scope will bring a far away animal into view and help create an experience that you will never forget. We sell sightseeing, hiking, geology and fishing guide books for Yellowstone and Beartooth area. Please ask the Silver Gate General Store staff any questions that you have about the area. We are here to serve.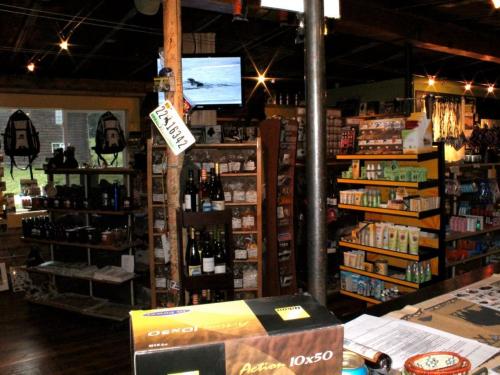 The store serves as a gathering place for relaxing and sharing your days experiences with the other guest and staff. Most nights during the summer and fall we build a fire outside in front of the General Store. We have plenty of hot dogs or marshmallows, graham crackers, and chocolate bars for your grilling pleasure.
During the day there is a spotting scope set up in front of the general store. High up on the slopes that surround the town you are likely to spot a herd of Bighorn Sheep or Mountain Goats. Sometimes there is a mountain lion seen on the slopes.
**As of September 2017: Due to current circumstances beyond our control, we do not have internet. The closest internet access is 3 miles down the road at the Chamber of Commerce.**
In Silver Gate, we only have satellite internet. This means that we have very limited data so the internet can only be used for checking email and the weather. The internet is very slow, spotty, and it does not always work. When it is working, our guests staying at Silver Gate Lodge are welcome to use it from the porch of the General Store. If you need high speed internet, the Cooke City Chamber of Commerce, 3 miles up the road, has free high speed internet available for visitors.
Sometimes, just sitting in front of the store in the morning with a cup of strong, hot Grizzly blend coffee and gazing out at snow capped Amphitheater Mountain towering 3000 plus ft above you is worth the all the time, money and effort getting out to Yellowstone National Park.